Posts for tag: gummy smile
By A Brilliant Smile
June 23, 2018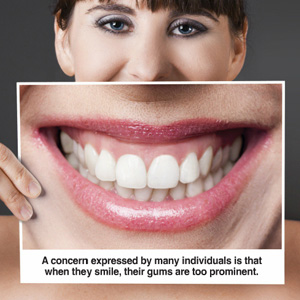 Even with picture perfect teeth, you may still be unhappy with your appearance. The problem: too much of your upper gums show when you smile.
There's no precise standard for a "gummy smile"—it's often a matter of perception. As a rule of thumb, though, we consider a smile "gummy" if four or more millimeters of upper gum tissue show while smiling. In any event if you perceive you have a gummy smile, it can greatly affect your self-confidence and overall well-being.
The good news is we can often correct or at least minimize a gummy smile. The first step, though, is to find out why the gums are so prominent.
There are a few possible causes: the most obvious, of course, is that there's more than normal gum tissue present. But the cause could be the front teeth didn't fully erupt in childhood and so the gums appear more prominent. Other causes include the upper lip moving too far upward when smiling (hypermobile) or an elongated upper jaw that's out of proportion with the face.
Finding the exact cause or combination of causes will determine what approach we take to minimize your gummy smile. If too much gum tissue or not enough of  the teeth show, we can use a surgical procedure called crown lengthening to expose more of the crown (the visible part of a tooth), as well as remove excess gum tissues and reshape them and the underlying bone for a more proportional appearance.
A hypermobile upper lip can be treated with Botox, a cosmetic injection that temporarily paralyzes the lip muscles and restricts their movement. But for a permanent solution, we could consider a surgical procedure to limit upper lip movement.
Surgery may also be necessary for an abnormal jaw structure to reposition it in relation to the skull. If, on the other hand it's the teeth's position and not the jaw causing gum prominence, we may be able to correct it with orthodontics.
As you can see, there are several ways varying in complexity to correct a gummy smile. To know what will work best for you, you'll need to undergo an orofacial examination to determine the underlying cause. It's quite possible there's a way to improve your smile and regain your self-confidence.
If you would like more information on improving a gummy smile, please contact us or schedule an appointment for a consultation. You can also learn more about this topic by reading the Dear Doctor magazine article "Gummy Smiles."
By A Brilliant Smile
November 25, 2013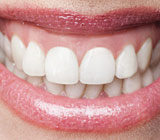 Something about your smile isn't quite right. It's too "gummy" — too much of the upper gum line is visible and it looks out of proportion to your teeth and lips. Most dentists identify a smile as too gummy if four millimeters or more (approximately an eighth of an inch) of the gum tissue is visible at a full smile.
Fortunately, there are ways to minimize this effect. It's important, though, to first determine the true cause before we embark on any treatment plan.
Your teeth may be the actual cause. As we mature, teeth "erupt" through the gums and the supporting bone and appear in the mouth. They continue to erupt until meeting their "antagonists," the opposing teeth from the opposite jaw. In addition, the gums go to the proper position where the root meets the enamel of the teeth around late adolescence. The normal result is a length of the crown (the visible portion of the tooth) of approximately 10 mm.
If the teeth don't erupt fully or the gums don't go to their proper position, the teeth appear shorter and the gums more prominent. Using a surgical technique called crown lengthening, we remove excess gum tissue and, if necessary, reshape the underlying bone to reveal the proper amount of tooth length. Teeth also shorten due to excessive wear; the teeth continue to erupt to compensate for the wear that occurs over time. The attached gum tissue follows with the tooth. This can be corrected with orthodontic treatment (for bite correction) and porcelain veneers.
Two more causes of a gummy smile are when a person has a hyper-mobile upper lip — the upper lip can raise too much lift when smiling — and an upper jaw length that appears too long for the face. If lips rise higher than the normal 6-8 mm when we smile, too much of the gum line appears. This can be treated temporarily with Botox injections to reduce the mobility of the muscles, or there is a surgical procedure that reduces the mobility of the upper lip. For an elongated upper jaw, orthognathic ("to straighten the jaw") surgery relocates the jaw to a more upward position that diminishes the amount of gum tissue that shows during smiling.
Treatments for a gummy smile range from simple techniques to more complex surgical procedures. Only a thorough dental exam will reveal the best treatment path to follow.
If you would like more information on treatments for "gummy" smiles, please contact us or schedule an appointment for a consultation. You can also learn more about this topic by reading the Dear Doctor magazine article "Gummy Smiles."