Posts for tag: clear aligners
By A Brilliant Smile
March 30, 2018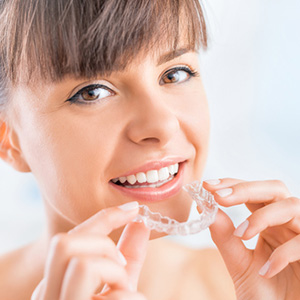 Your teen is about to embark on an orthodontic journey to a straighter, more attractive smile. But although you're excited about the outcome, you both may be steeling yourselves for a few years of "life with braces."
But maybe not—your teen may be able to take advantage of a different kind of corrective appliance: clear aligners. This 21st Century teeth movement method has a number of advantages over braces. For teens, though, there's one big one that could have a huge impact on their social life—clear aligners are nearly invisible to other people.
Clear aligners consist of a series of clear, removable, computer-generated trays based on photographs, models and x-rays of an individual patient's teeth and bite. Each of the trays is slightly different from the previous one in the series, and by wearing each one for about two weeks before moving on to the next, the aligners gradually move the teeth to the desired new positions.
Besides reducing embarrassment often associated with wearing metal braces, clear aligners have other benefits. Unlike braces, they can be removed for eating, easier oral hygiene or for rare special occasions (although for best effectiveness, they should be worn for 20 to 22 hours each day). Recent developments like added elements that help target certain teeth for movement or "power ridges" for more controlled and efficient force have increased the range of bite problems they can be used to correct.
While this means clear aligners can be used for many bite problems, in some severe cases braces and other orthodontic treatments might still be necessary. And because they're not fixed like braces (only the orthodontist can remove them) the patient must have the maturity and self-discipline to wear them consistently.
Your teen will need to undergo a thorough orthodontic examination to see if clear aligners are a viable option for them. If so, it could make the next few treatment years less stressful for both of you.
If you would like more information on clear aligners, please contact us or schedule an appointment for a consultation. You can also learn more about this topic by reading the Dear Doctor magazine article "Clear Aligners for Teens: User-Friendly Orthodontics."
By A Brilliant Smile
January 06, 2016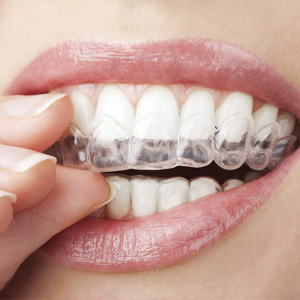 For decades, traditional braces were the only orthodontic choice for moving misaligned teeth. Although they're quite effective, they can cause discomfort and, for teens especially, embarrassment due to their noticeable metallic appearance.
In recent years, though, technology has produced an alternative to braces that's proven effective for many types of patients. Besides being less cumbersome and disruptive to everyday life than braces, clear aligners have another advantage that appeals to teens — they're much less visible.
Introduced in the late 1990s, clear aligners are a system of individual trays made of nearly invisible polyurethane plastic worn over the upper teeth. The trays are computer-generated based on the patient's individual mouth structure captured in photographs and x-rays. Each tray in the sequence is incrementally smaller in size; the patient begins wearing the first aligner in the series for about two weeks, 20 to 22 hours a day. They then switch to the next tray in the series for about the same amount of time, and continue in this fashion until they've worn each aligner in the series.
Besides their improvement in appearance, aligners also have another advantage: unlike traditional braces, aligners can be removed from the mouth for eating or on a limited basis for rare important social occasions. Brushing and flossing are also much easier with aligners, which don't pose the same access problems as traditional braces.
Clear aligners were once only effective with select types of orthodontic patients, which didn't always include teens. Over the last decade, however, significant changes to design and additional implements have widened their application to more patients, especially teens. For example, we can now add tiny "power ridges" to the aligner design that give greater precision over desired tooth movement to create a more controlled and efficient force on the teeth. More recent aligners are also being produced with a thinner, more comfortable material.
A thorough orthodontic exam will tell whether your teen is a good candidate for clear aligners. If so, they'll benefit from a more comfortable and less embarrassing experience while gaining a new smile for life.
If you would like more information on clear aligners, please contact us or schedule an appointment for a consultation. You can also learn more about this topic by reading the Dear Doctor magazine article "Clear Aligners for Teens."