Posts for: October, 2015
By A Brilliant Smile
October 22, 2015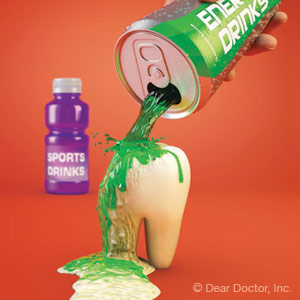 Tooth enamel erosion is a serious issue for many children that can result in permanent impairment of oral health. The problem isn't just bacterial acid that causes tooth decay — it's also the high acid content of sodas, energy and sports drinks widely popular among children and teenagers today.
Enamel is made of the strongest substance in the human body, which enables it to shield the inner layers of the teeth from disease and other environmental factors. Its chief nemesis, though, is acid: when enamel interacts with high concentrations of acid for a prolonged time, its mineral content will begin to soften and dissolve, a process known as de-mineralization. Saliva is the enamel's main protection against acid with the ability to neutralize (or buffer) acid and restore some of the enamel's mineral content, usually within thirty minutes to an hour after we eat.
The high acid content of many popular beverages, however, can overwhelm saliva's buffering ability, especially if a person is sipping for an extended time on an acidic drink. This kind of exposure is different from acid produced by bacteria that causes tooth decay: bacterial acid tends to concentrate in specific areas of the teeth, while the constant wash from acidic beverages will have a more generalized eroding effect on teeth.
This level of enamel loss is irreversible, which can leave a tooth in peril of decay and ultimate loss — and increase long-term dental care and costs. The best strategy is to have your child stop or significantly curtail drinking highly acidic beverages. Rather than drink sports beverages for hydration, substitute water, nature's hydrator. Milk can also be a viable beverage substitute.
If you do allow some acidic beverages, try to limit them to mealtimes and discourage extended sipping. Look for drinks with added calcium as this can reduce the beverage's erosive potential. The goal is to reduce the amount and duration beverage acid is in contact with tooth enamel.
Making these changes will help greatly to protect your child's tooth enamel, and give saliva a chance to do its job protecting it. Your efforts will also increase your child's chances of better dental health in the future.
If you would like more information on dental erosion, please contact us today to schedule an appointment for a consultation. You can also learn more about this topic by reading the Dear Doctor magazine article "Dental Erosion."
By A Brilliant Smile
October 07, 2015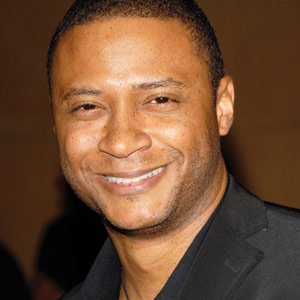 Can you have healthy teeth and still have gum disease? Absolutely! And if you don't believe us, just ask actor David Ramsey. The cast member of TV hits such as Dexter and Arrow said in a recent interview that up to the present day, he has never had a single cavity. Yet at a routine dental visit during his college years, Ramsey's dentist pointed out how easily his gums bled during the exam. This was an early sign of periodontal (gum) disease, the dentist told him.
"I learned that just because you don't have cavities, doesn't mean you don't have periodontal disease," Ramsey said.
Apparently, Ramsey had always been very conscientious about brushing his teeth but he never flossed them.
"This isn't just some strange phenomenon that exists just in my house — a lot of people who brush don't really floss," he noted.
Unfortunately, that's true — and we'd certainly like to change it. So why is flossing so important?
Oral diseases such as tooth decay and periodontal disease often start when dental plaque, a bacteria-laden film that collects on teeth, is allowed to build up. These sticky deposits can harden into a substance called tartar or calculus, which is irritating to the gums and must be removed during a professional teeth cleaning.
Brushing teeth is one way to remove soft plaque, but it is not effective at reaching bacteria or food debris between teeth. That's where flossing comes in. Floss can fit into spaces that your toothbrush never reaches. In fact, if you don't floss, you're leaving about a third to half of your tooth surfaces unclean — and, as David Ramsey found out, that's a path to periodontal disease.
Since then, however, Ramsey has become a meticulous flosser, and he proudly notes that the long-ago dental appointment "was the last we heard of any type of gum disease."
Let that be the same for you! Just remember to brush and floss, eat a good diet low in sugar, and come in to the dental office for regular professional cleanings.
If you would like more information on flossing or periodontal disease, please contact us today to schedule an appointment for a consultation. You can also learn more by reading the Dear Doctor magazine article "Understanding Gum (Periodontal) Disease."