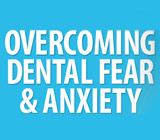 If you're apprehensive about visiting the dentist, you're not alone. Studies show a majority of us — as high as 75% — have experienced some form of anxiety about dental treatment. Between 10% and 15% of those have a high degree of anxiety that may cause them to avoid visiting the dentist altogether.
If you've experienced this level of anxiety, you weren't born with it. Such fears develop from early experiences with dentistry, or from stories or attitudes relayed to us by others. While this undue emotional stress could adversely affect your general health, the greater threat is to your oral health, if it causes you to avoid dental care altogether.
Fortunately, anxiety from the thought of dentistry can be overcome. The best approach is relatively simple — counteract the bad experiences of the past with new, more positive experiences. Moderate dentistry should be able to completely eliminate any discomfort during treatment. And with each new good experience, your feelings and attitudes will gradually change over time for the better.
The first step is to discuss your anxiety about dental care with us. It's important to establish trust with your care provider from the outset if you want to successfully overcome your anxiety. We will listen and not discount or diminish the reality of your fears and their emotional and physical effect; instead, we will work with you to include overcoming anxiety as a part of your treatment plan.
The next step is to proceed with treatments and procedures you feel you can easily undergo, so that at the end of each visit you'll have a more positive view of that particular treatment (and that you could undergo it again). We won't rush to complete treatments until you're ready for them. Although this may extend the duration needed to complete a procedure, it's important for us to proceed at a pace more conducive to creating and reinforcing new positive feelings and attitudes about dental visits.
In the end, we want to do more than treat an immediate or emergency-related dental condition. We want to help you overcome the anxiety that has kept you from seeking long-term dental care — and thus better dental health — a part of your life.
If you would like more information on overcoming dental treatment anxiety, please contact us or schedule an appointment for a consultation. You can also learn more about this topic by reading the Dear Doctor magazine article "Overcoming Dental Fear & Anxiety."